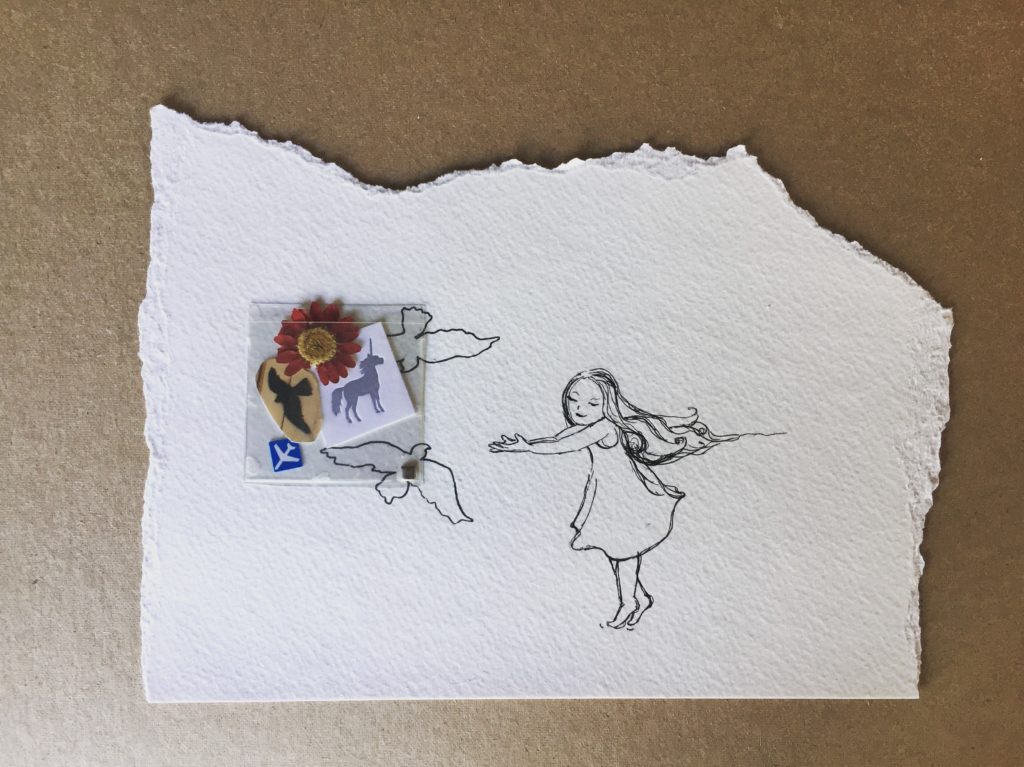 The hardest part of flight can often be the point of lift off. It is the most honest point in an upward trajectory. It demands that you admit whether or not you truly want to soar. It is the moment you find yourself in a headstand, not toppling over, but instead swaying in balance. It is the unexpected arrival of success. It is falling in love. It is the sensation that the writing or art that you're making is exactly what it needs to be and that in fact, it's exactly what you want it to be.
The sketch above is small section from a larger multimedia piece that I began years ago. I was halfway through making it, when I started to feel a deep sense of satisfaction and I froze. I got scared that I might mess it up. While I never completed the piece, I held onto it for years because it represented the hope and exhilaration of goods things unfinished.
Last year during an apartment purge I couldn't quite bring myself to let go of the drawing. Instead, I tore out the girl whose feet lift off the earth, half in flight, as she tosses birds upward into the air. This sketch represents a continuous theme in my life — a tension between meaning and freedom, a conflicted desire for both roots and adventure, the darkest, deepest question of how to live a life that affords me both a sense of vitality and a sense of love and belonging.
If nothing else, the lesson I take from this first post on Things Unfinished, is that it is precisely in these moments of lift off that we we have a choice to make: we can choose to slam hard on the breaks and not screw it up, or we can choose to relax into the momentum, letting it sweep us forward, without controlling how we soar, where we go or when or how we land.
My hope is that I can learn to always take flight when I'm afforded the ability to soar. I know that whether I stay afloat or not is of less importance. What matters is that point of honesty and the willingness to jump into both joy and fear, because that is the most beautiful sensation of all. Some might even say that lifting off is the whole point of flight in the first place.
This post is part of a series called Things Unfinished. It is an exploration of creative endeavors that I started, but never completed. In many ways it is also an inventory of my fears.